Here at Agapanthus we've been collecting and displaying some lovely vintage pieces – it's a brilliant way to give your home a strong sense of personality. By hanging an eclectic selection of art and mirrors, you can soften up an overly coordinated interior by adding interest with a layered arrangement of wall art. We've pinned a whole array of ideas for gallery wall design for your home over at Pinterest and we've got lots of great art, vintage signage and mirrors available for purchase in our shop, should you fancy beginning a collection of your own.
But as finding that perfect balance between mismatch and coordination can be hard, we have created some beautifully curated collections of found objects and antiques to save you the time and trouble of endless hunting. Created from various treasures and findings that we have sourced upon our travels, these enormously characterful pieces coordinate perfectly to make an instant gallery feature wall in your home.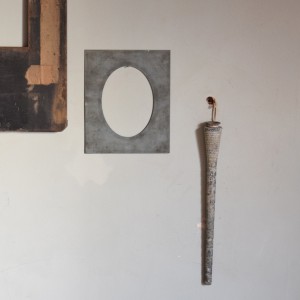 We've used a range of ephemera to create our collections, from antique drawers to miniature glass bottles, empty gilt frames and vintage typographic letters – great for adding a personalised touch by incorporating the initials of you and your family. Found keys and old postcards add an extra touch of tactility and visual interest. All the pieces can be moved to create new combinations or even added to as you begin to gather object memories and mementoes of your own.